About the Club
High Legh Bowling Club is set in beautiful surroundings and is easily accessible just off the A50, opposite High Legh's Village Hall and next to the main car park in West Lane. Yet it is so private that many would be unaware of its existence.

The Club began life in 1986 to provide indoor bowling in the Village Hall as an amenity for the local community. Our bowling green was completed just a few years later – in 1989.

Although High Legh residents and long service members account for more than half of our total of over 100 members, we also attract bowlers from surrounding areas - such as Appleton, Grappenhall, Knutsford, Lymm, Stockton Heath, Warrington and areas further afield.

Our Clubhouse, comprising clubroom, catering facilities & toilets stands beside the green.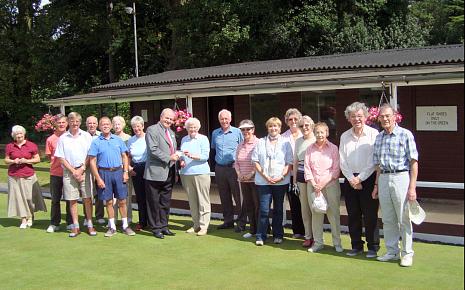 Through our affiliation to Cheshire County Crown Green Bowling Association and Greater Manchester Crown Green Bowling Association we field nine teams (ladies', men's and mixed) across the various Knutsford, Norley and Trafford Leagues.

We offer a programme of planned events and competitions to meet the needs of all members and our Fun Day has become a popular feature for members and non-members alike.

Our subscriptions are quite modest at £28 per year for Outdoor Bowling (and a half-price offer for beginners) and £6 for Winter Indoor Bowling in the Village Hall.

We are a friendly, welcoming Club, able to cater for the needs of experienced bowlers as well as for complete beginners.